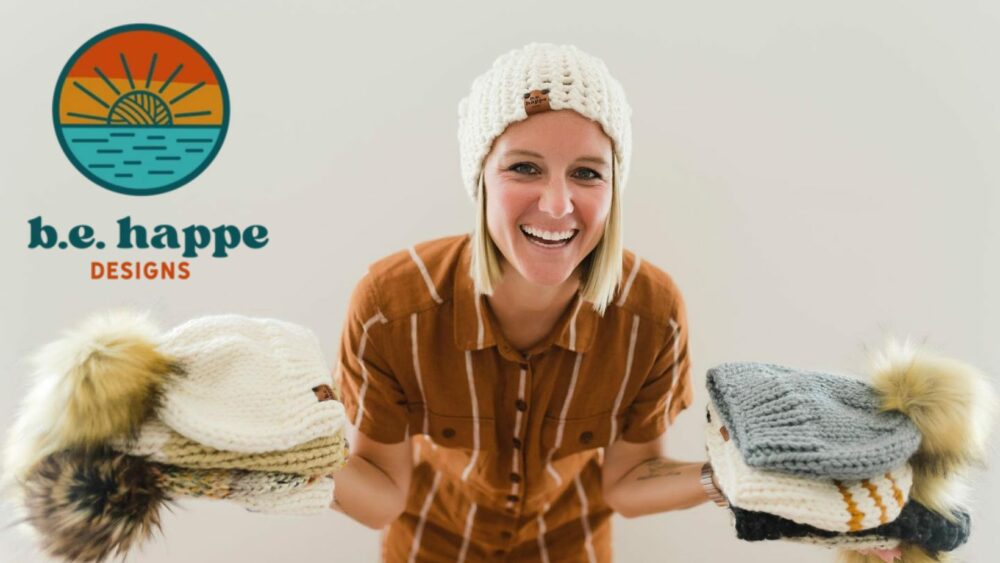 Brooke Happe stepped away from her career as a Doctor of Physical Therapy in 2015 to stay home with her two boys and soon to be newborn daughter. She wanted to keep her hands strong, as she used manual therapy for most of her rehabilitation techniques, so she challenged herself to learn something new for this new season of life: crocheting.
After countless yards of yarn and many hours of teaching herself to crochet via the internet, she made her first hat! She continued to practice the art of crochet, donating hats to Blank Children's Hospital in Des Moines, Iowa where they lived at that time. With encouragement from family and friends, Brooke started to sell her items and b.e.happe Designs was born in 2016. For the first two years, they had a "Buy one hat, Give one back" to Blank Children's Hospital with each sale. In 2018, after a lengthy PICU stay with one of her children at Blank, her family realized that there is a much greater need for giving back. They decided to transition their giving to 'hats that give back,' using a portion of sale proceeds to donate wish list items for Child Life Services.
We were blessed by Child Life Services and appreciated everything that they did for both my son and his siblings to make them feel safe during the stay…. When you buy a b.e.happe item, you're not only helping to support our dreams, but you're helping provide children in need items to help them pass time, laugh, play and be kids during whatever battle they may be facing." – Brooke Happe
The following year, the Happe family knew they wanted to maximize their time together and simplify their lives. So, they sold their house and almost all of their belongings to travel the country full time in an RV for an adventure of a lifetime and to grow b.e.happe.
We looked deeper into what b.e.happe meant to us…it is more than just my initials and a brand that gives back. b.e.happe is a mind frame to never stop dreaming, a lifestyle, our hope and direction as we took a leap of faith as a family of 5 and travel the country." – Brooke Happe
Today, the Happe family continues to run b.e.happe from their 42 foot fifth wheel. They are able to spend quality time together, build lifetime memories and teach their children that they can do anything they put their minds to, all while giving back.