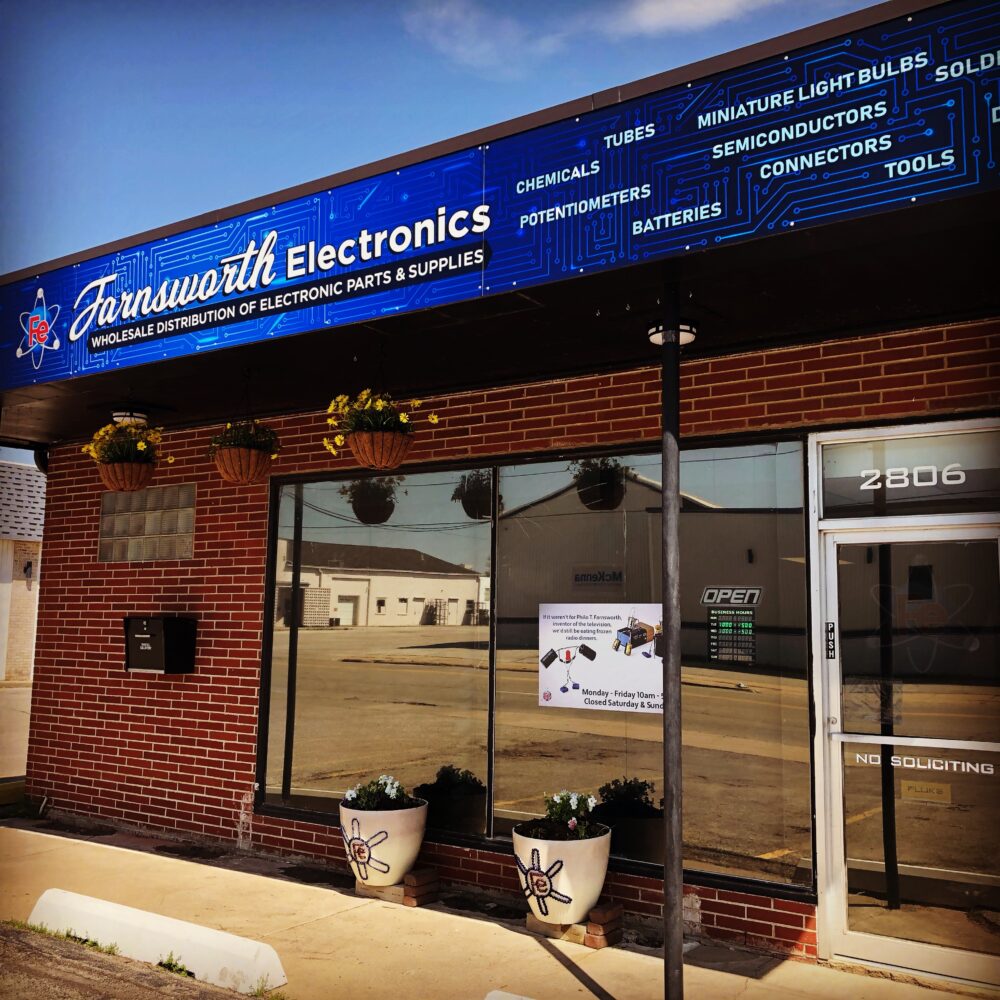 After recognizing a need for small electronic repairs in 1922, Gerald Farnsworth founded Farnsworth Electronics out of a chicken coop in New Hartford, Iowa. Later, Gerald's father would join him in the business as the bookkeeper and later, they moved operations to Waterloo, Iowa. Fast forward to 1970 and Gerald's son, Jim, took over the family business after returning from Vietnam. Selling stereos, televisions, replacement parts, speakers, and PA equipment, Jim saw the opportunity to shift gears and move into distributing industrial electronics, making Farnsworth Electronics Iowa's one stop shop for electronic parts and supplies. Shortly after graduating college in 1992, Jim's daughter, Anji Bernard started working at the business and officially took over the legacy in 2016.
Rich in history, Farnsworth Electronics is now Shop Iowa's complete source for quality electronic components. With products from over 350 manufacturers, their huge in-store selection of inventory consists of a wide variety of switches, connectors, relays, capacitors, solder, resistors, heat shrink tubing, miniature light bulbs, test equipment and so much more. Take a look at their products on Shop Iowa and you will find some of the most unique and hard to find products that promote curiosity, education, STEM and so much more. They even have a product that will train your plant to send a tweet when it needs to be watered (seriously).
I don't want to have anything and everything, but I want to have specialty items you can't find in other places. That's the forte of the business… we've always had the stuff you can't find" – Anji Barnard
Customers often call Farnsworth Electronics one of the Cedar Valley's best kept secrets (and we have to agree). They have a vibe like no other. Customers can not only feel, but see the history when walking in the door (and will likely be greeted by a fluffy cat or two). A giant 7-foot projector screen meets you next to an RCA horn speaker and a 13 inch rack mount reel player used for playing background music to numerous businesses throughout Waterloo. A collection of used tubes brings back fond memories of radio dinners. Around the corner from the Farnsworth built wire spooler are aisles of parts.
The Farnsworth Electronics' mission hasn't changed in almost 100 years with customer service remaining at the forefront. Their staff are knowledgable, their delivery is prompt, and they pride themselves on offering competitive pricing. Although the pandemic has impacted the shop, they've expanded their reach by selling products on eBay, Reverb, Etsy, and of course Shop Iowa! Local customers also have the ability to pick up parts 24/7/365 with their new convenient SmartLocker system. Anji has coined the phrase "I Beat Radio Shack!" and we are proud of this Iowa Targeted Small Business!
Click to Shop Farnsworth Electronics