Description
Iowa Bride's love our custom made LED Neon name signs!
Your name displayed in bright LED lights that have the appearance of Neon lights!  Available in 36″ and 48″ wide signs.  Remote control also included to power ON/OFF and change from solid to flashing patterns.  You can also dim the light and turn it into a subtle night light.
LED Light Color
Signs are made with a single color Cool White LED light. Other single colors available include warm white, pink, blue, purple, and red.  These are low-voltage 12v lights that plug into a standard 120v wall socket.
Backer
All signs are produced with a .22″ thick clear acrylic backer. Please contact us for additional backer options, such as colored acrylic, painted wood, and rustic barnwood backers.
The size of a sign is the actual backer size.  The lettering is 1-2 inches inside that dimension.
Imagine your lettering lit up, then draw a 1-2″ space around the outside of it all…that is the backer size.  The space outside of the lettering is needed for support of the sign.  All signs are cutout around the lettering.  Let us know if you want a square/rectangle shape instead.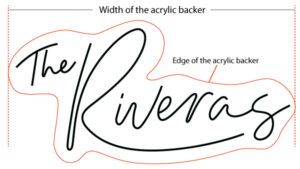 Maximum sign sizes:
48″ sign is 48″ wide x 16″ high.
36″ sign is 35″ wide x 15″ high
Production Time
Production time is 3-4 weeks due to the time involved with creating the signs.  Should you require less than 30 days, rush service is available. Please select the rush option during the order process.
Ordering Process
Once we have received your order, an artwork proof will be created and emailed to you for approval.  Once approved, the production of your sign will begin.
Is your name really long?
If you have an unusually long name, it may not fit on the 36″ wide sign.  This would also require additional production time and material. If that is the case, we will notify you of this and how much more the cost will be.
Delivery – Pickup or Shipping
Pickup in the local Des Moines/Urbandale area is no charge.  USPS or UPS delivery is set at $40 flat rate for shipping.  We take many precautions and considerable amount of time packaging the sign for delivery.
Can you buy LED Neon cheaper?  Probably so, but it will be made in a foreign countriy and shipped to you.  Why risk the possibility of receiving a damaged sign?  Designed and Made in Iowa!
Custom orders for other sizes are available.  Contact us for details.