What do the holidays, movie nights, and birthdays have in common? Popcorn! Almost Famous Popcorn has a flavor for everyone – 36 colorful varieties to be exact. Popcorn is a snack that is perfect for special occasions as well as a weekday treat.
The store began as a lesson in owning a small business. Parents Bill and Robyn Rieckhoff wanted Carter and Sidney, both middle schoolers at the time, to have the experience of creating their own enterprise. The Rieckhoffs already had several food businesses, and it was time to get the next generation involved. Now all four adults are co-owners.
"Being a family-owned Iowa business, we've always had this drive to make this successful. Even when we've hit hard times, we've been there for each other and had the dedication to make things work," said co-owner Sydney Rieckhoff in an interview with We Are Iowa.
Popcorn fans will find classic flavors like butter, caramel, and cheddar or the favorite mixture of all three. Those with a sweet tooth will be intrigued by creations like Scotch-A- Roo, Lemon Cookie, Birthday Cake, Root Beer Barrel, and a Cedar Rapids signature: Crunchberry Day.

Those who enjoy salty combinations will get a kick out of several cheesy varieties, including Cheddar Jalapeno and Parmesan Garlic, and a savory Herb Garden. There's even a Dilly Dilly pickle-flavored option.
"We put love into it. We make everything in small batches, by hand or on small equipment, so we can put the best popcorn in the country out to our customers," said co-owner Bill Rieckhoff to Cedar Rapids Tourism.
Originally named The Great American Popcorn Company, the small venture started as a stall inside the NewBo City Market. The "popping good" treats quickly became a fixture. The business was rebranded Almost Famous Popcorn and graduated to a storefront across the street only two years later. In summer 2020, a second location was added in Des Moines.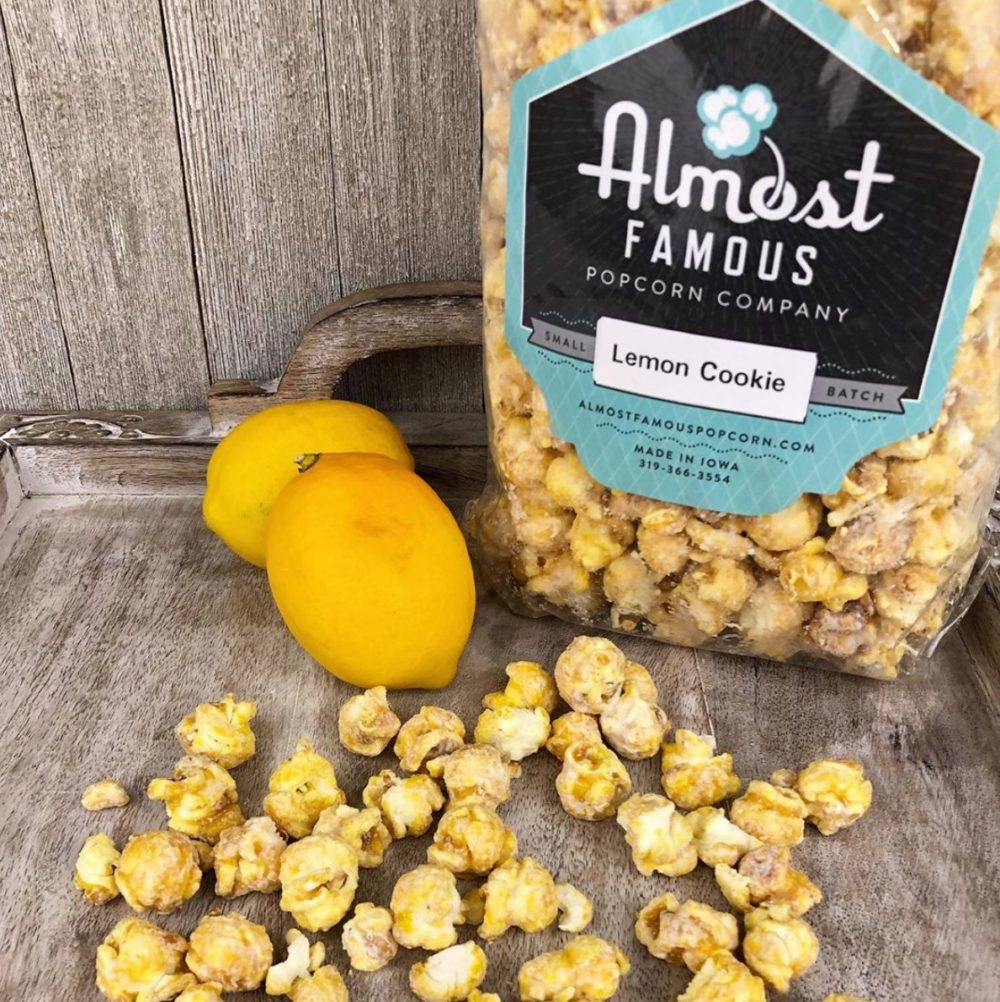 One of the secrets behind this tasty venture is that Almost Famous Popcorn has its own production facility. Popcorn is popped fresh before being coated in fun flavors that are always evolving. Another draw is that Almost Famous has a separate area for nut-free and gluten-free flavors. Customers with allergies can be confident there's no cross- contamination.
Choose from individual packages, gift box sets, large tins, and single-serving Little Poppers bags. Both stores also have hand-dipped ice cream made by the Chocolate Shoppe out of Madison, fresh fudge, and specialty soda pops.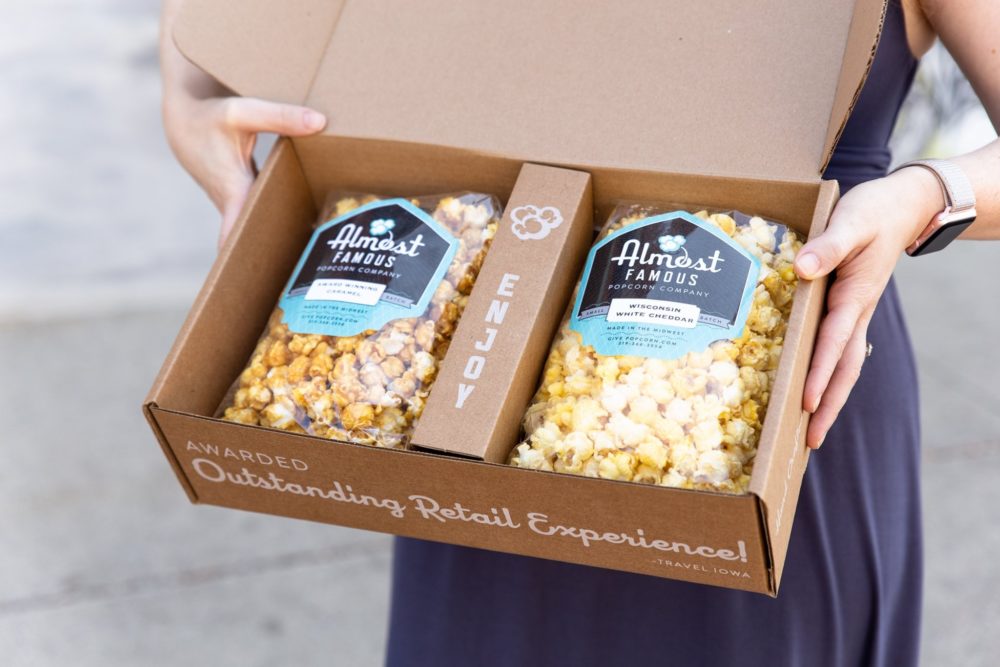 Almost Famous Popcorn has national shipping is available.
In the Cedar Rapids or Des Moines area? Call or visit their local shops:
1121 3rd St. SE
Cedar Rapids, IA 52401
Phone: (319) 366-3554
350 E. Locust St, Suite 103
Des Moines, IA 50309
Phone: (515) 829-6969