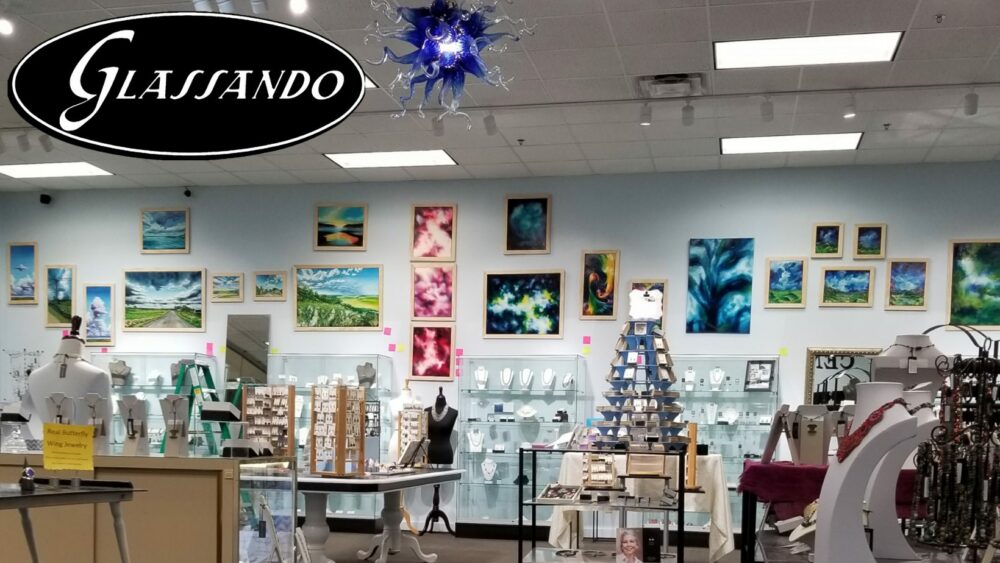 Abby Restko, founder and owner of Glassando Jewelry in Iowa City, discovered her love of Murano glass during college while studying abroad in Venice, Italy.
I brought back all of this lovely Murano glass jewelry for my family and friends," she said. "They were getting stopped by people on the street remarking on how beautiful the jewelry was and how they'd not seen anything like it before." – Restko
Realizing she found something in-demand and unique, Restko opened her jewelry store, Glassando, in a small space in Iowa City's Old Capitol Mall just one week after graduating college in 2005. With her major in marketing and minor in art, she began importing Murano glass jewelry.
Today, Glassando offers handmade jewelry from approximately 60 different jewelry artisans from around the world. And while they still carry art glass jewelry, they have expanded to showcase jewelry made from other unique materials including diamonds, gemstones, semi-precious stones, alternative metals, and Black Hills gold. Glassando also sells meteorite jewelry, bracelets made from recycled guitar strings and telephone wire and necklaces created from naturally expired butterfly wings. They even have jewelry made from antique boot buttons!
And if you can't find that exact piece you've been looking for, they also offer custom designs for engagement rings, mother's jewelry, and memorial jewelry. Restko has worked hard to make sure Glassando offers a wide price range with products from $10 to thousands of dollars with each purchase being wrapped up nicely including Glassando's original store tags and gift box – great for giving or storage for years to come.
Glassando also recently expanded into a larger store. And while they are still in the mall, they designed the new space to better serve their customers and have about six times the amount of space! They even have dressing rooms so brides can try their jewelry on with their wedding dress!
What we offer has really evolved as we've gotten requests from our customers. That's been really cool to see. And we plan to continue to evolve as we work to serve our customers even better." – Restko
Besides her husband, Restko has four part time employees that assist her in the shop. On a day-to-day basis, Restko said she's doing everything from working the sales floor to handling the buying and maintaining their online sales. However, her true passion lies with helping her customers find that perfect piece of jewelry.