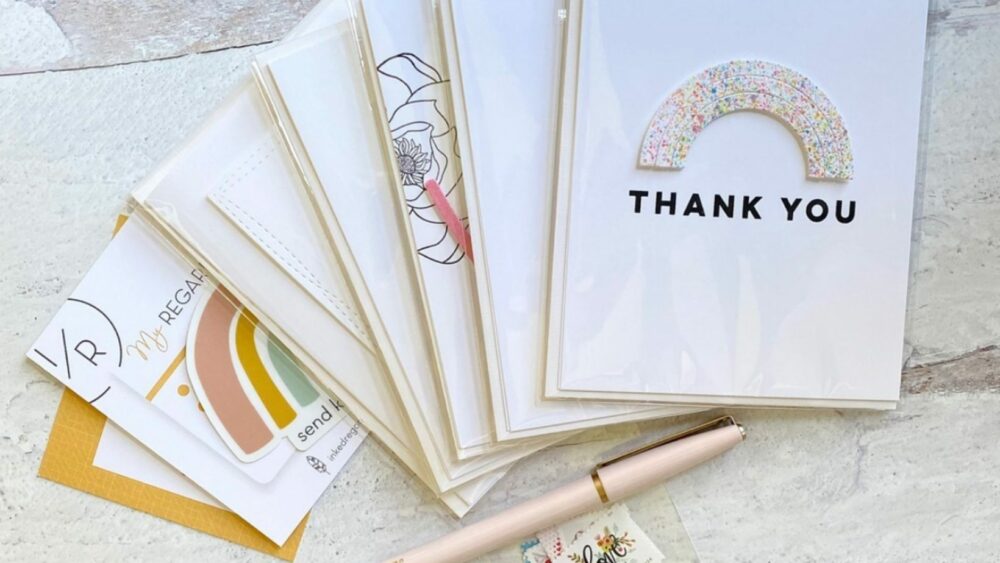 Inked Regards, a Dubuque based, online handmade greeting card store is bringing simple tokens of kindness and the joy of snail mail back to the present. Initially, Inked Regards owner, Melissa Chipperfield, used her creative skills to make clean and simple greeting card designs to share with fellow crafters. As time went on, she noticed the need for truly unique cards in an overly saturated market of mass production.
After designing for several stamp companies and having a design published in Cards Magazine, she launched Inked Regards to make her cards available to those who wished to give truly unique greeting cards.
I envisioned designs that offered an extra touch of meaningful detail on such a simple token of kindness." – Melissa
Inked Regards offers modern, clean and simple handmade cards as well as other fun stationery items. Whether you need a single card, multiple cards or want Melissa to custom design for a special occasion or your business, she offers many options to help you deliver a little kindness to others.
What really sets Inked Regards apart from other stationary businesses, are her card boxes. Each month, Melissa releases a themed card box on Shop Iowa. Her website also features customizable card boxes and 6 and 12-month card subscription boxes, saving you those last-minute trips to the store for greeting cards! Each box includes 5 unique, handcrafted cards, postage stamps and simple little gifts (stickers, pins, quote cards, etc.).  Themes vary each month, some according to upcoming holidays occurring close to the ship date, some birthday cards, wedding/anniversary, baby and just because. Each box is beautifully packaged with so much attention to detail you won't want to disturb the packaging!
Take all of the complications out of being kind and support this unique Iowa small business! 

Click here to shop Inked Regards