Take a look at the Fine Art category on Shop Iowa and you will see, talent is not hard to come by. Nancy Cameron, who currently resides in Ottumwa, is one of the many talented artists in Iowa.

Nancy has wanted to paint watercolor all of her life … but there was never enough time. Nancy began her watercolor journey just a few years ago following a career of teaching music.
Nancy and her husband lived in Iowa, North Dakota, Montana, and Arkansas and traveled mostly in the western United States. She gathered images of the beauty of all those regions in her heart and mind, and they emerge in her art. She paints in a loose, intuitive watercolor style to encourage herself to learn to let go of control and paint freely. From beautiful seascapes, floral masterpieces and abstract colorful explosions, you're sure to find a piece from Nancy to enjoy!
During the lockdown of the pandemic in 2020 Nancy began posting her art online daily on Facebook. Her purpose was to give people something else to think about for just a moment and to maybe raise their spirits. It was such a joy to her that she continues to do it and find new ways of bringing happiness to others through her art.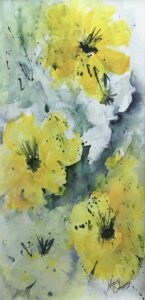 We hope you enjoy Nancy's art as much as we do! If you are ever interested in more information about a particular piece or are looking for something specific, be sure to email her directly. She's such a pleasure to work with. All paintings pictured on this site are original watercolors and are available for purchase.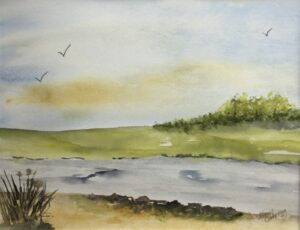 Click here to shop Nancy Cameron Art