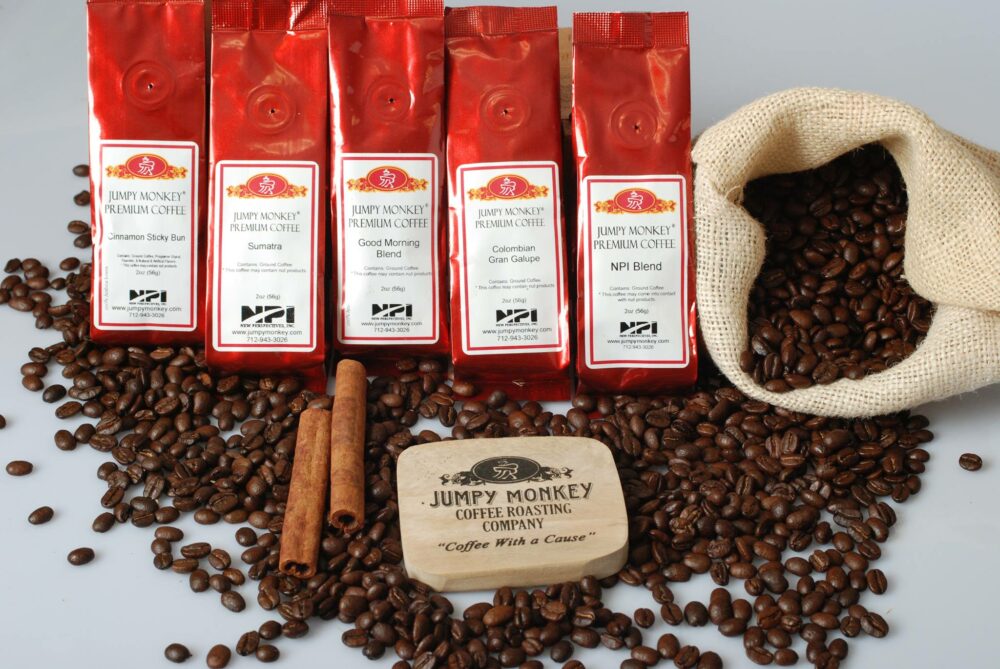 There's no such thing as too much coffee when it's coffee with a cause! Jumpy Monkey is coffee with a cause, a phrase that has become synonymous since 2003. This Sergeant Bluff, family-owned coffee roasting company is mission driven; providing meaningful employment to individuals with disabilities.
Over the years Jump Monkey has been able to expand their reach. Collaborating with nonprofits, coffee shops and businesses throughout the Midwest, they have found employment for over 100 individuals with disabilities! The family behind this amazing endeavor is mother and daughter duo Lori and Amanda Bride.
Jumpy Monkey also partners with a variety of business offices, coffee shops, churches and restaurants to provide them with their premium coffee. In addition, they have expanded the idea of community stewardship by using their coffee as a method to raise funds for schools, churches and other organizations. The concept of a "good cause" helping another "good cause" has been a win-win opportunity for many nonprofit organizations.
Besides serving this noble cause, they also strive to produce the best coffee available, sourcing only 100% Arabica coffee beans. And nothing compares to their flavor selection!
They attribute their success to the people who purchase Jumpy Monkey coffee (and their loyal customers have glowing recommendations):
I love the coffee and special employees that package the coffee. This is truly a worth while cause. I feel Blessed each time I buy more coffee because I know each bag was packaged with love and made a difference in someone's life. Please support small businesses!

The smiles when they package your coffee makes this coffee priceless. Thank you for giving individuals with special needs a voice, a pay check and self worth. That's what making a difference means." -Vicki Girard-Kollbaum
Jumpy Monkey coffee is the best tasting and freshest coffee you will ever drink. Add that to the fact that they provide meaningful employment to adults with disabilities makes it taste even better. I highly encourage you to try it if you have not." – Jason Brockhouse
Jumpy Monkey strives to make a difference every day and their experience has shown that together we can make the world a better place, one cup of coffee at a time!