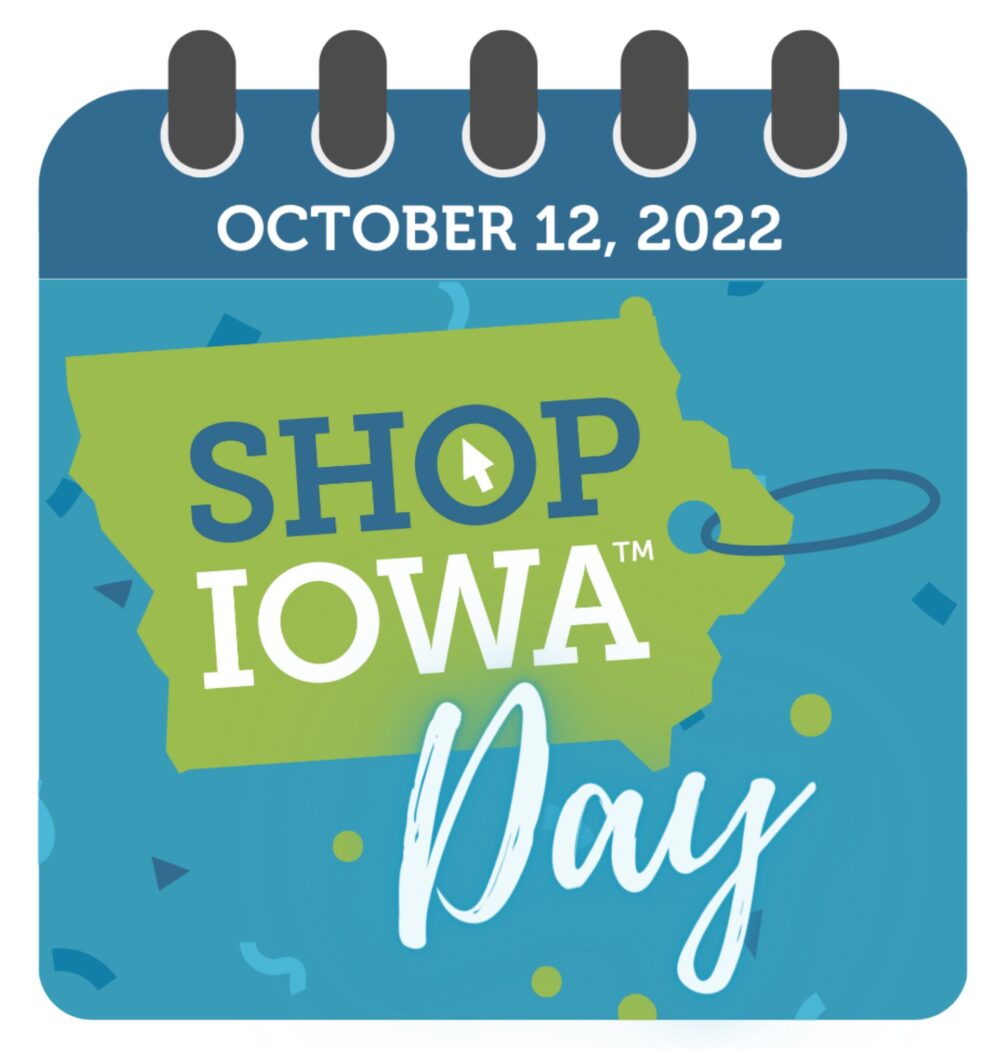 Shop Iowa Day is coming! Statewide e-commerce marketplace announces October 12 as special deals day to encourage shopping from Iowa small businesses ahead of holiday season
$500 Shop Iowa shopping spree giveaway, site-wide discounts and gift card rebates

MARION, Iowa (Oct. 3, 2022) – Shop Iowa, a statewide e-commerce marketplace initiative of the Iowa Economic Development Authority with the support of the Iowa Small Business Development Center, has announced 'Shop Iowa Day', a day dedicated to promoting and offering incentives for shopping at Iowa small businesses across the state on the platform. Shop Iowa is managed by Member Marketplace Inc., an Iowa small business with employees in Marion, Iowa City and Des Moines.
On Shop Iowa Day, Wed. October 12, the Shop Iowa marketplace will offer site-wide discounts from apparel to wall decor and everything in between. By supporting Iowa small businesses on this day and shopping sooner for the holidays, shoppers can enjoy:
A chance to win a $500 Shop Iowa shopping spree grand prize, or one of four additional Shop Iowa gift cards. No purchase necessary.
1-day markdowns from small businesses across the state
$5 Shop Iowa gift card for every $25 gift card purchased
Free shipping specials by select business and local pickup where available
"We recognize the importance of giving small businesses the visibility and support they need to succeed, which is why we created Shop Iowa," said Debi Durham, executive director of Iowa Economic Development Authority and Iowa Finance Authority. "The online platform has positively impacted small businesses in all 99 counties across Iowa, and we look forward to building on that success with the first-annual Shop Iowa Day."
Promotions will run until 11:59 P.M. on October 12, and early deals will also start the night before at 6 P.M. for Shop Iowa email and text list subscribers. Sign up for text alerts to get all the promotions as they happen on Shop Iowa Day and unlock 20 percent off an order: https://www.shopiowa.com/shopiowaday
Launched in August 2020, Shop Iowa is a convenient way to buy products from small businesses from across the State of Iowa with one checkout and have items arrive at your door. Now serving businesses in all 99 counties, the marketplace serves as an additional revenue stream for businesses already familiar with e-commerce, but also provides an opportunity to help businesses step into selling online for the first time with the support of the Member Marketplace team.
About Member Marketplace Inc.
Member Marketplace Inc., based in Marion, Iowa, creates e-commerce marketplace websites for local communities and member-based organizations, enabling their businesses to sell online together. Member Marketplace provides support and e-commerce expertise for members that sell through the platform, making it easy to showcase that community online and leverage the power behind the shared organization. Learn more at: www.membermarketplaceinc.com.
###