Meet the proud owners of Purple Ribbon General Store, the Hunter family.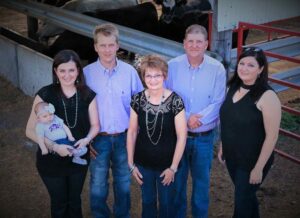 Pete, Cindy, Sara, Ashley, Jess & Rylan
Located in Clarion, Iowa, Purple Ribbon General Store is a one-of-a-kind, family-owned general store. They offer premium Iowa products such as home decor, candles, local foods and honey.
You can also find their namesake, Purple Ribbon Beef. They pride themselves on raising premium beef from birth to plate. Not only is their beef BQA (Beef Quality Assurance) certified, ensuring the highest standard of practices on the farm, but they pay careful attention to every detail as they raise the beef because they believe that is what makes the difference.
Cattle runs deep in the Hunter family roots. Cindy was born and raised in Clarion and met her husband, Pete, showing cattle. And a similar story holds true for Jess and Ashley. Rylan, the baby in the above photo, was at her first cattle show at 2 weeks old! In the girls (Sara and Ashley) glory days they traveled all across the nation winning multiple awards hence Purple Ribbon Beef. It's truly in their blood and why they enjoy bringing a premium product to you all.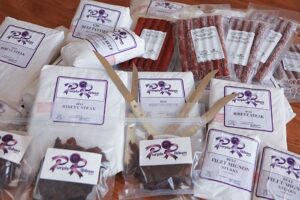 This part of the country is known for its wonderful black dirt and raising corn and soybeans which allows them to take advantage of the incredible Iowa Corn and use it as one of the main ingredients in the cattle's diet. These cows are the foundation of their cowherd and the beef animals they currently raise. So when you have their meat you know that you're getting only the best. Every animal is born and raised on their farm and they can tell you every detail about them.
Their goal is simple: to produce the best beef you've ever had, using the highest quality standards and sustainable farming practices. They want their family farm to be around for generations to come and so do we!
Shop Purple Ribbon General Store on Shop Iowa HERE.
Or if you're in the area, stop by and visit them in person.
1788 200th Street
Clarion, Iowa
50525