As Midwesterners, we are very familiar with the four seasons. Ashley Hahn believes that while we celebrate the wonders of the changing seasons and moments that come along with them, we should take time to celebrate the seasons of LOVE and FAITH all year long. Which is why she created Shop Six Seasons.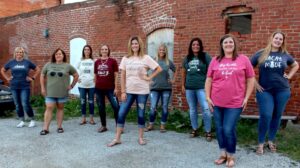 Ashley defines herself as a wife, mother, small business owner and all around lover of life! In her free time (when she's not taking care of her three children)  you can find her dancing in the kitchen or entertaining friends and family. She is a one woman show, taking care of all aspects of Shop Six Seasons. And prides herself on creating beautiful, high quality t-shirts, while always putting customer service at the forefront. She wants her customers to have a smooth and special experience from the time they place their order to the handwritten note that she includes in each shipment.
Her t-shirts have been very popular on Shop Iowa, but it's her attention to detail and amazing customer service that turns her customers into loyal supporters. Here's what one of her customers had to say on a Shop Iowa review:
Ashley is amazing! The orders that I have placed with her have been done on time and with great attention to detail. When I had a small issue with one of my orders, she promptly took care of making me a new one without any hesitation! She's as sweet as pie and takes care of her customers with amazing service! You won't be disappointed when you Shop Six Seasons!
Shop Six Seasons is best described as made-to-order lifestyle clothing and fun occasion t-shirts. Customers have the opportunity to choose their design and select their t-shirt color from a variety of options.
The collection is constantly changing, so be sure to keep an eye on the Shop Six Seasons Shop Iowa page and also follow her on Facebook and Instagram.